CASE STUDY
What did you do before becoming a Network Partner?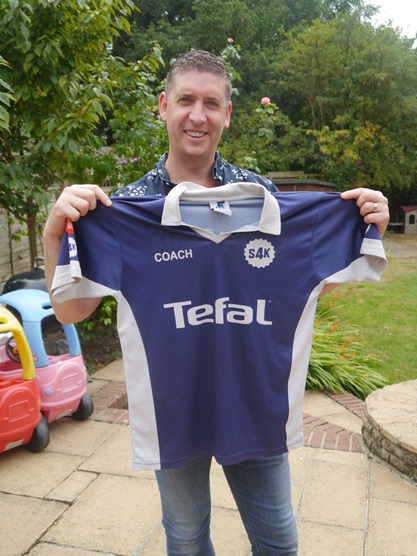 I have had and still have a successful career in events, sports, and entertainment organising corporate events and hospitality. Being around sport and peoples passion for sport made Sport4Kids a natural consideration. I will remain in my role for a few years whilst we build our S4K business. 
What prompted you to investigate franchising?
It was an accident really. I saw an advert and then met up and had several conversations with Steve and Mark, and it went from there. It was only afterwards we looked into the concept of franchising and also saw the power of the S4K Licence compared to what else is out there.
The key trigger was a downturn in my core industry. For many years the events, sports and hospitality market has been buoyant but as with many industries it is cyclical and in recent times has been turbulent. Nothing remains the same in corporate life and a downturn brings its'own pressures. The extended recession, scandals in sport with icons falling from grace, world governing bodies including the likes of FIFA and the Olympic movement becoming controversial have made corporations more sensitive to spending large budgets on sports events and hospitality. The whole ticketing processes across the industry with pressure on the secondary market has meant that I, like many others are looking to diversify and back other horses. 
We have a small family and a working partner at home, so the Network Partner opportunity with Sport4Kids was an option that I came across and seriously considered for over a year while I looked at other career and business options. Having something you can own yourself and build a legacy certainly appeals over an uncertain corporate lifestyle. Being able to kick start our own business in a recession proof market, whilst continuing our careers was a big attraction.
Why the children's sport and education sector, and why an S4K Network Partner?
Well the market is very attractive. For one it is recession proof as parents keep on having children and the growth in nurseries and school sports budgets, with the "Sugar Tax" are all positive trends. We constantly see reports on obesity and there is an increase noise level about getting children active and promoting sport. 
We also have three small children under the age of 7 and have seen first-hand the children's sports and activities class market. There is great scope and we believe the market from a supply perspective is very immature with lots of opportunity. We have friends and family in the education sector and see sports and children's health and fitness being a big growth area in the years to come. It is only going to go one way. 
The Network Partner opportunity is attractive for a number of reasons, as I have said it gives us the ability to own our own business and build a legacy for ourselves and our children. With the Head Coach model and help from family and friends we are both able to keep our jobs going whilst we build our business. It is a business build proposition and we have invested in three territories to build something very large. The intention is to build quick and then have the flexible lifestyle that we could only dream of in corporate life. 
Sport4Kids is just very unique, in looking at anything anywhere near it in the children's sports and education sector it is just so much more professional. It is no doubt very special and the network will sweep the nation. It is being in your own business but not on your own.
Schools are under-served and the lack of trained staff in schools and nurseries means there is a big demand out there for external support. This whole children's sport and entertainment is a big and growing market, which makes it very attractive, and it is going nowhere. The level of infrastructure and support from S4K was important for us as was the quality of the products, which right across the board are stand out. The fact there are many service lines gives us the confidence we can tap into the market and continually grow our business over the longer term.
How was it in the beginning?
I had been looking at the S4K network for some time. Everything in the early days looked impressive. I was impressed with the business model and saw it as a very viable alternative to my corporate career. I just felt it was too early for me to get involved. 
I suppose my attitude to risk was more on the reserved side. Leaving corporate life and setting up your own business is scary. As I have observed more and more Network Partners get involved my attitude to risk changed. The risk was that my territories could be snapped up at any time and I could be looking from the outside in with big regrets. 
The risks in corporate world are there for all to see and I have experienced them first hand.  So on re-considering S4K it suddenly became a no brainer. We had to make the leap, and we have had no regrets since.
The S4K Leadership are very impressive individuals and their energy and commitment to continuously building new revenue lines is something we saw as a big positive. We have been made to feel like a real partner in the business and the culture at S4K is like one big family. We certainly feel at home.
The help and support through due diligence and then our launch phase was excellent. The attention to detail was impressive. We were able to secure venues, got to the top of the search engines and put together a coaching squad for launch with ease. It came together a lot quicker and a lot easier than we imagined. We were given every help, every step of the way by the S4K Core Team. The S4K University is easy to use and the training was excellent. 
What is your typical day like?
We opted for the Head Coach model, which means that the day to day operations, with S4K customer Service and Administration Team support, are taken care of. I managed to get my sister involved who runs her own marketing agency and so the marketing aspects were taken care of as well. 
The whole Two Year Support program gave us confidence we could handle the business as well as two busy day jobs. It has been a great start to our S4K journey. Feels good to be in a business of our own, knowing the future is secure.
My role is very much setting of the strategy, commercials and team building. We fit everything around the family, work and the coaching team that essentially run the day to day liaising with schools, nurseries and the venues.  We know S4K is full on but it is the flexibility of the lifestyle that is such a big plus for us. 
How is business in the current economic climate?
Parents do spend on their children and as such it is recession proof.  Schools and nurseries are a growth opportunity and through our close links with family and friends we see a great our schools business developing well.  
Compared to the market sector and industries that I have worked in this is a more robust and positive environment to be building a long term business. The market is so large and the number of quality service lines we have gives us great confidence moving forward. 
What advice would you have for others considering an S4K Network Partner in this sector?
I would do your research, do your investigative work on what else is in the market. There is nothing out there like S4K. I would advise jumping into due diligence as soon as you can as there is so much under the bonnet, that you cannot see from outside. It is the S4K secret sauce that the competition cannot see or emulate. It is this part that has given Helen and I the confidence to make the leap.
Starting up your own business, moving from the corporate world can be scary. I would recommend to take a look at The S4K University and all the modules around how to run the business, this gave us the confidence to move forward. Everything from how to advertise, recruit coaches and all the modules in The S4K University to see the level of training and the level of detail that S4K goes to is an eye opener. This provides an insight to what is underneath and how S4K runs its business and all the things the core business does for you,  takes away those concerns.  
I would advise if you are considering escaping corporate life and doing something very different and creating a different lifestyle, I would just do it, S4K is ideal for us and probably many others in the same boat.
How do you see the future of your business?
Well, our future is to build the Enfield territory up. Build the coaching team and the infrastructure here. We have a plan to move to the Chelmsford, Colchester area and so we have secured two more territories and we will expand there once we have Enfield settled. Using the Head Coach and Management team model means we can do this.
The aim is to take up a big chunk of the east coast and get the S4K message out there and of course build a big business for ourselves and our family.