CASE STUDY
What did you do before becoming a Network Partner?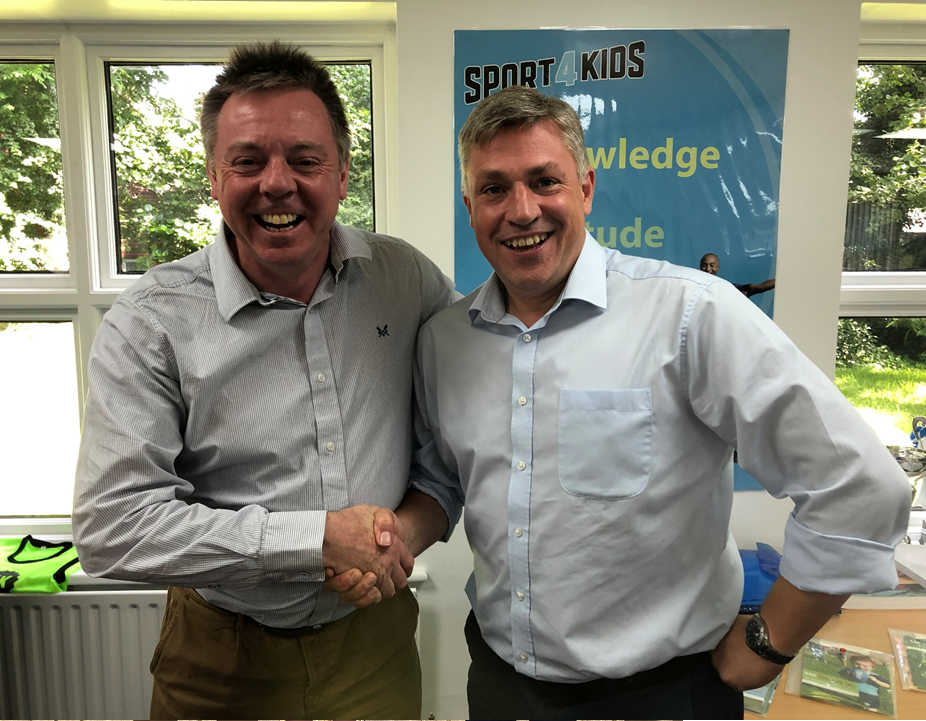 I am a Manufacturing Engineer by education and spent the early part of my career in the Far East helping to build and run metal food & beverage packaging factories. To be honest I wasn't the greatest engineer in the world and quite quickly found my way into general management running factories in the UK and France. Since then I have run Manufacturing and Engineering businesses for both large multi-nationals and small family-owned companies.
What prompted you to investigate franchising?
I actually tripped over franchising by pure chance while looking for my next career challenge. I responded to an on-line job-board advert for GM/MD's who were interested in Sport, Education and finding an alternative to the "rat race" of mainstream corporate life (Sport4Kids).
I had always previously thought of franchising as either large mainstream food retail opportunities (McDonalds, Costa, Subway, Domino's etc) or as those offered by small business owners who were trying to earn some additional revenue with little in the way of true brand value, developed products / business processes, market differentiation or HQ support. I had little interest in running a business of either of these types.
I was surprised by the breadth of franchise opportunities on offer in the UK. Although I was really intrigued by the Sport4Kids franchise partner offer, I also investigated an opportunity for a Business Coaching franchise as well. It was interesting going through Discovery Days with both Franchisors to compare and contrast the cultures, business models and products.
Having toyed with the idea of starting and running my own business on a couple of occasions in the past, franchising with a well-established business seemed to be a route to mitigate some of the risks which had always prevented me from taking the plunge. I have never been afraid of hard work and the thought of working hard for my own business has always been attractive.
I wanted to find a franchise where I would have the opportunity to apply some of the learning and experience that I have gained over the years running several businesses. As an engineer I appreciate the need for systems and processes and am prepared to follow a proven model and make best use of that benefit – however I also have strong ideas on the importance of team members throughout any business and the ways to provide them with the opportunity to learn, grow and be excellent at work to the benefit of our clients, customers and partners. I also wanted to find a franchise where I could see myself smiling every day and genuinely doing something which contributes to local communities and families.
Why the children's sport and education sector?
Like many of the S4K team, I have spent much of my life in and around sport. I played a couple of sports to a decent standard - rugby (both codes - only finally retiring at 43) and basketball at National League level. I also have been lucky enough to coach and referee various sports over the years. I have dabbled in most sports and can hack my way round a golf course, give someone a half-decent hit at tennis, bowl a few tricky off-spinners, sweat my way around a squash court….. among many others. To be honest I am at my happiest when playing, coaching, refereeing or watching sport of any type.

In my working life, most of the businesses I have been involved with have had active apprenticeship and graduate schemes which have kept me in contact with schools, colleges and universities. Most recently I have chaired an education, business and local authority committee working on improving careers and work-preparation education in South Derbyshire.

The next generation has many new challenges to overcome – increasing levels of obesity, pressure of social media, deterioration of local community, and an uncertain future employment and economic picture. There is no doubt that these are all contributing to concerns over the mental-wellbeing of our children (and adults). I believe sport and activity can help to address some of the root causes and provide a significant part of the solution.

I passionately believe that team based, competitive sport or outdoor activities for children of all ages provides a crucial part of helping to develop robust and healthy young people who are more likely to realise their true potential through their lives. The combination of high-quality activity provision in schools and extra-curricular and local community club-based sport opportunities provide a key part of the picture. There is no doubt, from the experiences with my own two children, that primary schools are looking for improved ways to provide these experiences to their students, with unfortunately many schools struggling to work out the best way to do this.
Why an S4K Network Partner?
The choice between the two franchise opportunities I was exploring was actually a simple one in the end. The S4K team themselves were the biggest differentiator. World-class professional standards, in-depth understanding and knowledge of their market and products combined with a culture of openness, feeling of family, sense of humour / fun and team ethic, all felt right for me. The discussions with the S4K leadership team were all focussed on helping to provide as many children as possible with the opportunity to learn and grow through sport, dance and outdoor activities – the fact that it makes great business sense is almost just a wonderful bonus.

I must admit that the S4K Franchise Partner opportunity has so much under the bonnet It just feels like cheating. The opportunity to build my own business to a significant size, based in my local area, with the benefit of years of product and business process development behind us is so exciting. The combination of access to world-class coaching and teaching techniques together with so much quality and excellence is like standing on the shoulders of giants. Despite my basketball background, being 5' 7 ¾" tall (the ¾" is VERY important), I need all the height advantage I can get!!!

Probably the biggest and most pleasant surprise going through Discovery and Due Diligence has been understanding S4K's highly developed apprenticeship scheme, vocational training and career pathways. The passion which Steve, Mark, James, Bev and the whole S4K team have for, not only the development of children, but for supporting team members in their careers is amazing.

I am fortunate that my whole family have been supportive through the process – helped in no small part by the opportunity for them to meet the S4K team from an early stage. I also have been fortunate to have a General Manager on board from the start who will earn a stake in the business through the first year and is involved from the start in recruitment, venue selection and starting our journey in bringing the S4K way to a large part of the Midlands.

How was it in the beginning?
We're still in the early stages as we're not launching our first weekend skills classes until September this year. Our current focus is on recruiting and training coaches and securing venues.
I think the experience so far is that we've had clear and effective guidance on what we need to do and how to do it.
With hands on support from S4K we've secured agreements with venues and we're already building relationships with additional venues with a view to our future expansion. S4K supported our negotiations and advised on acceptable price points for the type of venues we looked at. S4K also provided insight in terms of the pros and cons of different locations and the practical access arrangements/policies operated by the venues.
Attracting applications to work with us has been easy. S4K recommended a listing on Indeed, recommended the appropriate level of spend and provided us with a template with the wording of the advertisement, which needed only minimal input from me such as entering the towns we're recruiting in.
Likewise, our digital marketing was easy to set up. I'm a bit of a luddite but all I had to do was provide some limited information to the administration team who passed it on to a recommended digital marketing expert and it was done in short order.
We've also attended a local fete and a summer show. There was a module on the S4K University that told me exactly what I needed to do to meet S4K standards, the key success factors and what equipment/paperwork I needed. Whilst exhausting, these summer events haven't felt like work. Running interactive opportunities for children to discover S4K puts smiles on their faces and those of their parents and I've found people are really receptive to what we're trying to achieve. Parents understand the opportunities for physical and social development that sport offers and they're receptive to the way S4K goes about it. It feels like we're pushing against an open door in terms of the level of demand for what we do.
It's early days but we already have a nursery customer and another is likely to sign terms imminently. We also have leads for provision of services to schools and we've had have some party bookings on the strength of the S4K brand, without having really done any specific marketing of this service line yet.
What is your typical day like?
One of the great things is that there is no typical day.  So far we have spent time re-decorating and renovating our new office.  Reviewing CV's and holding selection events to recruit the best coaches and sport entertainers we can find. Visiting schools and nurseries to start building long-term relationships.  Participating in many training sessions both at head office and on self-led on-line S4K University modules. Visiting and selecting venues.  Getting online marketing and directory listings secured.  There is a clear and structured plan that is guiding me through the launch phase, but the variety really is second to none!
How is business in the current economic climate?
It's hard to say as I haven't operated this business in a different economic climate. I think the kind of parents that are interested in what we do are essentially diligent parents who want the best for their children.
I think all diligent parents want to provide opportunities for their children. Clearly affordability is an issue if consumers have to tighten their purse strings. In the food chain families there's not doubt that there are other forms of expenditure that come before children's sports coaching (e.g. mortgage, utilities, food etc). S4K is discretionary spend but I think parents will look to rein in on a range of other things before they cut back on spending money on their children.
Aside from where we are in the economic cycle I think the long term outlook is positive. The UK population is growing and government data is showing growth in GDP. Mental health and childhood obesity are constantly in the newspapers and our offering plays a role in addressing both of these challenges. I sense there's a trend in society towards the increasing accumulation of experiences rather than material possessions and irrespective of where we are in the cycle there's political will to improve children's access to sporting activities and grow.
In my opinion we're bringing a differentiated service offering to a large growth market. I think the S4K model will increasingly bring the S4K network advantages in terms of scale and efficiency as the network accelerates its coverage into the rest of the UK. I think there's a compelling business case for increasing our market penetration in a fragmented market.

What advice would you have for others considering an S4K Network Partner in this sector?
If you truly have a passion for helping young children build confidence to discover their super-power through Sport, Dance or Outdoor Activities and a desire to run your own business then I can't imagine why you wouldn't want to be part of the S4K family. 
From the first moment me and my family met Steve, Mark, James, Bev and the rest of the Sport4Kids team I was convinced by their passion for 2 groups of people:  helping kids to develop and grow & helping adults who want to pursue a meaningful career in sport coaching and entertainment!  Do your due diligence and take all the advice and support from the S4K senior team – and then join the S4K revolution!

How do you see the future of your business?
We are really focused on start-up and launch in Stafford at the moment – lots to do and get right.  However my General Manager and I, together with the S4K Senior Team, have taken a bit of time to raise our heads and look into the future possibilities for the Stafford territory. 
We know we want to launch 2 new venues every 3 months and steadily increase our week-day nursery and school partners.  In 3 years we plan to be present in all our main towns and cities from Wolverhampton in the South-West of our region to Stoke in the NW, Derby in the NE and Tamworth in the SE. 
We know that we have the scope to be a £multi-million business helping 10,000's of children across our region.  Oh yes and we'll work hard and have some fun along the way!