CASE STUDY
What did you do before becoming a Network Partner?
I am a busy mum with three small children 2 to 6 years and have balanced a hectic family life with a varied career.  I am a Public Sector Professional by trade and have worked across a range of Criminal Justice roles. I suppose my career to date has mostly involved handling people, running operations and promoting myself and the organisations I have worked for. I feel it would be a real match for the challenges ahead with Sport4Kids.
After many years building a career we started our young family and after a period of maternity leave I combined looking after a busy young family with a managerial position in clinical services.
I have to be very well organised and disciplined to keep everything going, but have always felt comfortable working in pressured environments dealing with serious situations and balancing managing people, process and performance of my teams. I have also had to be responsible for the outward face on my departments so also feel comfortable with PR and being the face of my organisation with respect to media and public interactions. 
I will continue with this role for a period as our Sport4Kids Enfield is launched and takes off. We will build a small management team that will oversee the early days till it gets to a size that will force Andrew and I to leave our old careers behind.
What prompted you to investigate franchising?
I am an accidental Network Partner as my husband was looking for his next position after a downturn in his industry and he came across Sport4Kids. Industry today is turbulent and the attraction for us was to get something we can own and rely upon our own efforts. Even in the Public Sector, where I have found myself, things are constantly changing and you never know when budgets are cut and career opportunities become limited. 
With three small children it is also something that we can build and provide a legacy and protect our children's future. It is something I can get my teeth into and work around the hectic family lifestyle. It is full on, as I like it, but very flexible and so much more opportunity to build something for ourselves.
The S4K Network Partner model really does provide a huge amount of support and infrastructure for us to build our business. Going through the due diligence and working closely with the S4K Leadership Team has been an experience in itself. We just couldn't do it on our own. We see it as a long term opportunity and have taken two additional territories including Ipswich, Colchester and Chelmsford.
Why the children's sport and education sector, and why an S4K Network Partner?
Having three small children and taking them to various children's activities and sports classes we have a very good feel for the market. We see this as a continually growing and evolving market. In my career I have seen a lot of challenged young people and what a good sporting education can make a difference. We hope to make a difference with our commitment to our local community. 
We also have a number of family and friends that work in the schools and nurseries and the issues they face are often hot topics around the dinner table. We also had our education pals review the S4K schools programs and they were very positive. It feels a very natural market to be building a business and committing our family to. We can't wait to get going.
Being an S4K Network Partner and of course being a brand ambassador in our territory is very exciting. I have seen close up the competitor products and no doubt we will be going to market with a superior service. We have the best products each category and the business support behind everything is a different class to anything we have seen. Everything S4K does is comparatively so professional. 
Having worked close to the S4K Core Team we are confident the commitment they have to constantly bringing new improvements and new service lines will go on and on. It will help us keep ahead of the competition. It is the whole S4K experience that gives us the confidence to make the jump and commit our family to building a great S4K business in Enfield.
The size and availability of territories was also a big factor for us as we are based in Hampshire and my husband comes from Portsmouth so we have taken three territories including Chichester. 
We are very excited and committed to building a very big business. We have invested deeply and we are ambitious. This will be our main creation of wealth and looking at other franchise models that would just not be possible. Yes, we work in it at the moment, but the plan is to build quickly and take a hands-off leadership role in the business.
How was it in the beginning?
Well, Andrew and I are traditionally cautious and we did a lot of due diligence, even before we entered the formal due diligence. We had family, friends and a team of professionals all chip in with advice and insight. It has all been worth it. The S4K Leadership team have been so welcoming and supportive over the journey of consideration, it has built our confidence and feeling of belonging as part of the S4K Family.
We had the pleasure of going round all the venues and seeing the coaches in action, which gave us a real feel of the culture and how it would be hiring young talent and building careers for them. We did several venues visits and we attended an S4K Tournament, which was an eye opener, in terms of the passion and excitement of the kids, parents and coaches. We also visited the holiday camps and could see the level of professionalism that flows throughout the organisation. 
Early on the key consideration was could we secure the venues and could we get the coaching talent we needed to build our business. The level of support to secure those venues and put together our initial coaching squad has been excellent. As Andrew and I have full time careers we have been very pleased with the flexibility to fit around this challenge. Evening and weekend meets have allowed us to launch a new business whilst we have maintained our busy roles. We have secured a really good Head Coach and we were able to put together a strong initial launch coaching team. We started with Rugby and Football before moving onto other service lines. The schools marketing has been good and with our own contacts the nursery and school program is looking good. 
All in all the beginning has been very smooth and has all gone to plan, adding to our confidence we have made the right decision. There is a great family vibe to S4K and we could not be happier how it has gone. 
What is your typical day like?
Well with three children and a day job a lot of my involvement is evenings and weekends. Conducting interviews and arranging training, Facebook marketing and building relationships with schools and colleges is one of my jobs as part of Team Enfield. My sister in law runs her own marketing agency, so she looks after that side of things. With the virtual team whatsapp comes in handy to keep up with all that is going on. It is just all very exciting times. 
Operationally we have decided to go down the Head Coach General Manager route so we still have time with the kids at weekends. Yes ther will be a lot of set up activity for each venues, but with the investment in training we are making and ll the QA processes we feel comfortable with the route we have chosen.  There is a definite benefit to being flexible, but you do have to be good at spinning plates!
How is business in the current economic climate?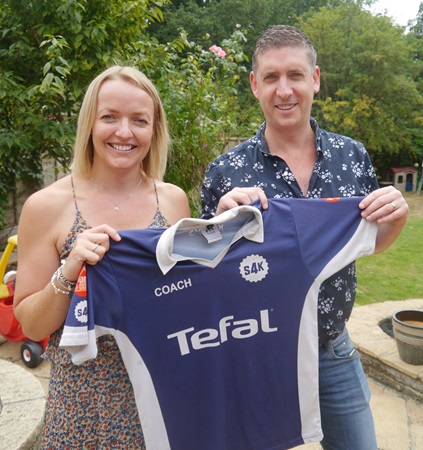 We see a lot of full classes for kids around our territory, so parents are spending and we see that continuing and even growing. We don't see any signs of any downturn in this space.
Enfield as an area has been slower to move to the independent model away from council run administrations, so we see a lot of opportunity there as they move progressively over to the Academy schools model. We are also well placed having a good body of family and friends who have their fingers on the pulse and an excellent network, which we hope to use. With a lot of working parents, we see a big opportunity in the holiday camps. 
There are a lot of market trends out there from say Government spend increasing to the media constantly talking about obesity, healthy lifestyles and parental awareness that the medium and long-term market conditions do look good.  With schools and nurseries increasingly looking to compete to attract parents and children there is also good demand for top end sports education support. 
What advice would you have for others considering an S4K Network Partner in this sector?
I think that everyone is different, so I would advise to work with what you've got. We have a really good family and team around us and we are able to keep in our roles for a period as our S4K Business grows. Yes we are excited at leaving our corporate lives behind and having a growing business for ourselves, but we have managed to de-risk by recruiting a Head Coach to look after the day to day operations. 
We have committed fully and have gone for the three territories to build a significant business. We feel we have future proofed our family and want to get away from relying on the Public Sector or corporate world to continue to support us. I for one think if someone feels there is a fit for themselves, just do it. Get into Due Diligence as quickly as possible and learn as much as you can of what is underneath the bonnet at S4K. We are seeing this network take off in front of our eyes and I would not like to be in a position where we would be looking form the outside, someone else running their business in our territory.
How do you see the future of your business?
Right now we are building our base, investing in coaches and training. The evolution of our team will determine how quickly we grow both here in Enfield but also in our other territories. 
I personally can't wait to join the business full time, but we have chosen to have it both ways, so we are patient. We realised early on it is the coaching squad which determines how big and how fast we are. Building deep relationships with the schools and colleges is important and that is where I am focusing my time.
Getting the full service line mix in place and then opening initial venues in our other territories are the next steps and we can only see a bright future as the S54K Network goes from strength to strength. For our family it is all about building a legacy for us and our children. As our brood grows up we want to be able to live a flexible lifestyle to enjoy their growing years and it is this promise from what we have at S4K that is so dear to our hearts.
Well, our future is to build a coaching team and then a management team as quickly as is practically possible for our three territories. Our coaches are ambitious and so are we. If we can do that then we can focus on leading the business, investing in more service lines and maybe, just maybe a fourth territory.  Having a young family, it is important to have a flexible lifestyle, so the sooner we can get to a critical mass in the business and give the coaches more responsibility in managing the business the greater the flexibility there will be for us. This lifestyle ambition whilst building a large business that can provide for us in later life is the reason we became an S4K Network Partner.