CASE STUDY
What did you do before becoming a Network Partner?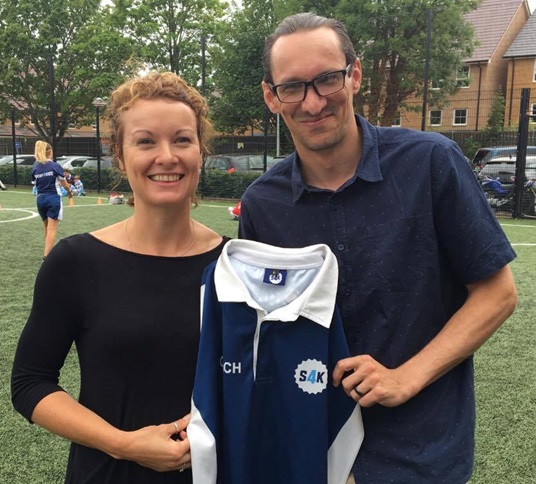 I have had a wide range of experience, most recently I was a Major Projects Manager for 3 Mobile and ran the retail refurbishment program. Previously I have been a qualified Licensed Victualler, a Ski Instructor and a Major Incidents Controller for the Police. For a number of years I have been a  Pilates Instructor, with 10 years' experience, and wanted to do something more in that space.
What prompted you to investigate franchising?
Franchising never came into my head until I came across Sport4Kids. And really it is more of a business build opportunity, and as a Network Partner, you definitely feel part of the development of the business, which is nice. 
My story is that I had actually, decided to follow my passion and build a Pilates business full time. Corporate life had lost its lustre and doing something I loved coaching and teaching whilst building a business came by accident. To fill up my hours and support my Pilates income I took a part time role coaching for the Sport4Kids core operation. To see the S4K product up close was transformational, it was so different and ahead of the competition and I knew instantly I needed to be part of it. I went home and showed my husband and we were convinced this was for us. 
The amount of ground S4K has covered in terms of a Business System was also a big part of it. I could see myself building a big business in my area.  
Why the children's sport and education sector, and why an S4K Network Partner?
I love everything about it. As well as coaching, I love to see the joy and development of children. It is so rewarding. My husband, children and myself enjoy sports and it is a very attractive lifestyle. It is a great fit with our family life.
It is of course a growing market and the whole nation is becoming more aware of healthy active lifestyles and how important it is to get a good start in life with healthy sporty habits for children. Parents are looking to spend more on their children's development. They are starting them earlier and investing more on helping them. They also have a need for a high-quality experience and that is where we at Sport4Kids see ourselves.
Schools are underserved and the lack of trained staff in schools and nurseries means there is a big demand out there for external support. This whole children's sport and entertainment is a big and growing market, which makes it very attractive, and it is going nowhere.
Being an S4K Partner made very good sense for us. There is so much put in place at S4K that it would take me years to build it and then some. Firstly, the product is so innovative and hits all the right notes. Then there is the comprehensive training, both from a business partners perspective but also for coaches. The business model is all about growth with many service lines. Having met the S4K Leadership we get a true sense of partnership and there is even an opportunity to contribute as a Network Partner to the development of the offer. My passion for Pilates is welcomed and I have been able to keep that side going and we are even talking about developing a Children's Pilates product and addressing well-being and mindfulness for children. Watch this space!
The size and availability of territories was also a big factor for us as we are based in Hampshire and my husband comes from Portsmouth so we have taken three territories including Chichester. 
We are very excited and committed to building a very big business. We have invested deeply and we are ambitious. This will be our main creation of wealth and looking at other franchise models that would just not be possible. Yes, we work in it at the moment, but the plan is to build quickly and take a hands-off leadership role in the business.
How was it in the beginning?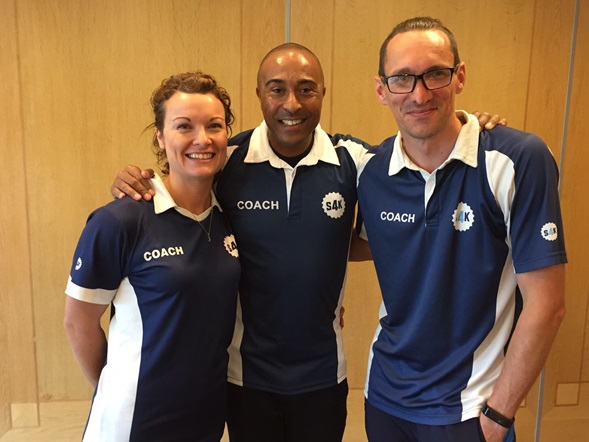 Well, I had a secret advantage as I worked behind the scenes in a try before you buy scenario, so I have had a head start in understanding the whole culture, product, processes and of course The S4K Way. 
We do not see ourselves as a Franchise and neither does the S4K Leadership Team. As an S4K Network Partner you really do feel as an integral part of the business and meeting the S4K Leadership Team for the first time this was made very clear. 
The S4K core is very experienced in the key growth areas of the business and they got out there and secured our first few venues and coaches. As part of the Two-Year Support Program the planning and launch is led by the S4K Core Team. They even seeded coaches into our own team. We were, at the beginning, and remain, very aggressive in terms of growing the business quickly so we have opened more venues than the norm or recommended, but as a Network Partner the S4K Leadership Team have supported and trusted our decision to go down this path. 
Although Portsmouth was going to be further down the line, we actually opened six venues in the first seven months and have built a coaching squad of sixteen already. The comprehensive training, accreditation and auditing of coaches helps, as well as much of it being online keeps the costs down. It means we can cover more ground than you would expect in getting a coaching team up to speed. It has been a good start with the venues and coaches now it is our job to build on this base with the rest of the service lines.
What is your typical day like?
Well mine is a mix of working on the business and working in the business. I have both the coaching but also the business building to do, so I don't have a typical day. We also have an active family to run with our children still under eleven.  It is good though, as we are now able to get along to assemblies and children's shows, where I couldn't when I worked in corporate life. There is a definite benefit to being flexible, but you do have to be good at spinning plates!
Some days I can be recruiting and training coaches, doing telephone interviews and face to face meetings, and on another I can be focusing on marketing, booking venues and building relationships with schools and nurseries. Weekends it is the venues set up and management. I love the people thing and building relationships, so the communication piece is a big thing for me. Whether it is a coach, a teacher or a nursery manager everyone has the best interest of the children at heart and there is a definite feeling of being in it together.
How is business in the current economic climate?
The market is strong for us as parents do prioritize spend on their children and are willing to pay for a good quality service. Whether that is the weekend skills classes, parties or holiday camps parents are always looking for something new and see it as an investment in their kids development and happiness. 
There are a lot of market trends out there from say Government spend increasing to the media constantly talking about obesity, healthy lifestyles and parental awareness that the medium and long-term market conditions do look good.  With schools and nurseries increasingly looking to compete to attract parents and children there is also good demand for top end sports education support. 
What advice would you have for others considering an S4K Network Partner in this sector?
Get out there and see the coaches in action. Visit a few venues and talk to the coaches to understand what it takes and how they have experienced Sport4kids. The reason is that it is the coaches who are the most important growth engines of your business. 
Take a look at The S4K University to see the level of training and the level of detail that S4K goes to. It is this that you are buying into. I would also ask the S4K Leadership Team to take you through the Operational Business Plan, so you can see what is expected of you and you can see a path to how you can build your own business. You will also see how your own strengths, or even weaknesses, match the task at hand.
Yes, do all the usual due diligence things but do see S4K in action to build a passion for The S4K Way, as emotions are a big thing on making this a success. I would also involve your family as early as possible and get them onside, it should be a family decision not just your own.
Most of all I would, make a decision to commit, and then enjoy the ride!
How do you see the future of your business?
Well, our future is to build a coaching team and then a management team as quickly as is practically possible for our three territories. Our coaches are ambitious and so are we. If we can do that then we can focus on leading the business, investing in more service lines and maybe, just maybe a fourth territory.  Having a young family, it is important to have a flexible lifestyle, so the sooner we can get to a critical mass in the business and give the coaches more responsibility in managing the business the greater the flexibility there will be for us. This lifestyle ambition whilst building a large business that can provide for us in later life is the reason we became an S4K Network Partner.