Case Study
What did you do before becoming a Network Partner?
My career to date has mostly surrounded customer service operations. I come from the exciting world of software development, and have headed up customer service and support functions in young, high growth tech companies.  
Most recently I worked for an education-technology start-up helping support the delivery of better Apprenticeship learning systems.  Before that I was with Hargreaves Lansdown, the Bristol based FTSE 100 financial services group where I built having built a high performing service division.
What prompted you to investigate franchising?
Well, I have always been an operations and business builder but largely within the safe confines of the corporate environment. Although, I do have an entrepreneurial nature underneath and more recently got involved in early stage technology start-ups. That was a first step and has given me the appetite for starting something for myself. 
I have always wanted to build a business rather than work in a business, and the franchise model makes a lot of sense. It provides a lower risk, quicker launch approach compared say to starting something from scratch, with everything to do yourself.
The S4K franchise model is different and a step up from what we have seen elsewhere. It is a very wide and deep model with lots of product to take to market. It is different, as it is very comprehensive. In that sense it represents a very big opportunity whilst not having to build everything yourself and doing it on your own. The S4K franchise model provides an awful lot of support and infrastructure to help me build a business. 
Why the children's sport and education sector?
It is a growth market and it is increasing in our consciousness every day. I also have had a passion for sport since childhood. I represented schools and local clubs, largely at a recreational level and have had a jack of all trades in several sports as opposed to mastery in one, including football, rugby, cricket, tennis, and swimming.  Many moons ago, I captained the school football team, reaching the Under 18s County Cup Final, and was a regular for the University Rugby first fifteen and mixed that up with managing social events, entertainment and sponsorship. So, I have been involved in all aspects of sport, and it is simply a big passion of mine.
We are also just about to start a family and wanted not to be tied to the corporate grind and the children's space is becoming so important in all aspects of life. My wife, Dr Sarah, is a Clinical Psychologist working in children's mental health services and she is passionate about children and families' social and emotional wellbeing.  The sport and education sector just strongly appeals to both of us and is a fit for everything we want to do. It is a great market to build a business and get involved in the community.
Why an S4K Network Partner?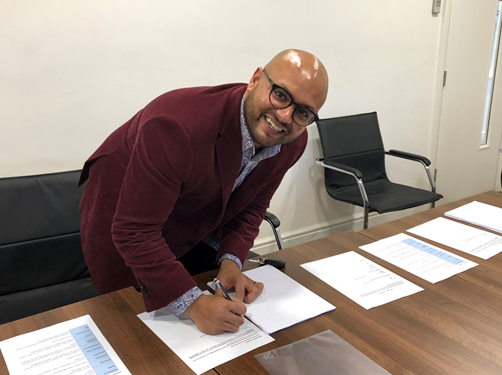 Everything about the opportunity excites me. Firstly, it's a lifestyle change having worked for a decade in the corporate '9 to 5' world where there are limits on autonomy and purpose.  It promises to be a great sporting lifestyle and a passion driven journey to doing something great and leaving a legacy.
There are many attractions to the S4K franchise model.  In addition to the strong ROI, S4K has an innovative business model, it allows you to build a large growth business, has world class products and they have a culture of investing in the business to constantly improve. As it continues to grow to a national and international network the economies of scale will be important, it is just going to be even better.
The S4K mission of transforming the children's sports services industry is exciting as we do want to put something back into the community. I am a very social person and building relationships in the community through children's sport and education is a big draw. This is important to me and Sarah.
There are so many aspects of the offering to the market, but foremost, we believe that Steve, Dr Mark, James and the rest of the S4K team have done a fantastic job in creating a truly first-class proposition for the market. Whether you are a parent, child, school or nursery it just makes so much sense.  
The product is simply way ahead of anything I have seen. Some of it is blindingly obvious, but no one has done it The S4K Way. It is a brilliant combination of sport, children's development, and entertainment.  The child psychology side is important to both Sarah and myself.
I also feel at home working with the S4K Leadership Team. I suppose it's the nature of the "Partner" concept and culture, they are a great bunch to work with, and smiling as I work just suits me. 
Myself and Sarah are very ambitious, and the fact that the business focus is all on growth with many opportunities to take to market just made us feel very comfortable for our long term future. There is also a real commitment to ongoing innovation and ahead of the game thinking, we have already seen some of the new products coming down the pipe. We can certainly see many more products and service lines coming out of S4K, which will help us to continue to build our business for years to come. We have been excited from the start.
How was it in the beginning?
We have hit the ground running and have been very successful recruiting our coaching team. We invested in an initial coaching team of 11 new coaches thinking that would be good as our first eleven team! We also secured our first two venues on the very first day of searching the key target areas we chose. 
The support to secure finance was spot on and made very easy as S4K and other Network Partners have already trodden the path successfully. Franchise Finance, who partner with S4K in that side of things were every efficient and my finance package was in place within ten days. We had territory selection dilemmas and changed our view a few times and Steve was very flexible and supportive. Everything was so professional and well honed.
The launch and business planning process were very comprehensive and detailed and it shows that it has now become a well ingrained approach to setting up a territory. We were able to cover a lot of ground quickly and got an awful lot done in a short space of time. My own background in building operations and process probably helped as well. 
Moving forward, we feel really comfortable as the Two-Year Support Program is there to help you get up to speed as there is a lot to learn. The beauty of the S4K model is the breadth, depth and quality, but it means that there is a lot to learn and over time we are confident the training and support S4K team put in place will pay dividends. It is early days but our initial experience has made us feel so excited to get going. I have not been this so excited to build a new business of our own for quite some time.
What is your typical day like?
Well to date it has been planning and recruitment of coaches, setting up training plans and making sure everything is in place for us to grow. 
I like to get out there and build relationships in the market, so nurseries, schools and colleges are important part of getting into the local market. Marketing to them and giving some freebies away works a treat.
There is no typical day but thinking, planning and building the assets of the business to grow is my focus. This is coaches, training, venues, SEO article writing, directories, marketing to schools and nurseries and of course the operational side of things making sure we are set up at the venues and have the right equipment and dealing with customer service issues. This is proper business build and I am used to setting up teams and operations, so it feels like I am a duck to water.
How is business in the current economic climate?
The Brexit thing is on top of everyone's mind, but all parents continue to spend money on their children. In fact, it feels as though this is becoming a bigger and bigger thing. 
We are just embarking on starting a family ourselves and a lot of our friends are around our age and are already experiencing the journey with their little ones. So, it feels very close to us and the market does seem vibrant. The market is so big that we are confident in our ability to take a decent market share.
We are positioned at the quality end and parents like to feel secure they are choosing the best experience and the best route for their kids. It is in this sense not impacted by the overall economy as there are more compelling drivers for parents. There is a realisation that it is not only academic success that is required but development of the overall child and extracurricular activities and a sports education is highly valued by parents today.
What advice would you have for others considering an S4K Network Partner in this sector?
My story may not suit others, but once I looked at the product, the offering and all the support and business systems, I knew I was hooked. I also knew that I wanted to escape corporate life and build a new lifestyle for my family and S4K is a perfect for me.
I did some due diligence, but it was obvious that it was perfect for me. Yes, I could have looked for another corporate job, but in the end the outcome would be the same, I would be stuck in another soul less dead end.  I would say to anyone who has a passion for sport, children's development and would like to build a business of their own to look seriously at S4K, but do not take long, as there is either a fit or there isn't. Go with your instinct and jump on the S4LKtrain with the rest of us.
I would recommend that you get your other half involved in the decision process early and move as quickly as possible.  Meeting the leadership team and a number of the service line leaders was also a good step. A venue tour and seeing the product in action is good and Sarah and I did this together. Simply put, I would say understand your own motivation and if there is a fit come and join the S4K family!
How do you see the future of your business?
We have lived in the region for the last 8 years and we're really looking forward to contributing back to the community in a big way. We see this through the lens of S4K's continuous expansion development of new products and the continued growth of the S4K Network. The economies of scale a national network can bring is a big part of the journey for us.
Most of all we are looking forward to having a great time along the way, developing deep relationships in the community, and putting as many smiles on as many kids as possible!
Following the initial launches in Toddler and Kids Rugby and Toddler and Kids Football in Portishead and Henbury we are looking to grow Bristol and North Somerset as quickly as possible and then even look to add additional territories.  We have our eyes on Swindon where I was brought up and have many ties. 
On the business support side, I am looking forward to bringing some expertise in the apprenticeships program and on product development side Sarah and I are looking forward to contributing to the children's psychology and well-being offerings that are in the pipeline.
Essentially, it is a long-term thing and with a new family on the way we see it as a way of life for the family and building something special for us all. Creating a legacy for our children along with a big successful business to support us is the goal in the years to come.